Prof. dr. ir. Emile van der Heide
University of Twente
Faculty of Engineering Technology
Chair of Skin Tribology
Enschede, The Netherlands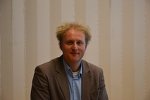 Skin tribology is considered a crucial expertise for future product developments in cosmetics, textiles, artificial turf and medical devices. Models are needed that can predict the tribological behaviour of skin – object interactions. These models include the development mechanical skin equivalents. Equally important are new engineering tools that can actually change friction in skin – product interactions, in a deterministic way. Material selection could be one of such tools. This will be illustrated by cases, i.e. artificial grass and tactile surfaces out of steel. New coatings are needed that can provide low friction in human tissue – object interactions. A promising direction for that could be the development of polymer coatings in combination the concept of hydration lubrication. Friction experiments at boundary lubrication conditions showed values for the coefficient of friction lower than 0.01 in case of hydrated PAA-g-PEG coatings, measured for a sliding contact with a flat-on-flat configuration. Results with new innovative coating designs based advanced bio-inspired materials show the feasibility of specific brush coatings.
Place: Meeting Room of PCCL, Roseggerstrasse 12, A-8700 Leoben
Time: 25.09.2012, 14:00