"Check and Relax"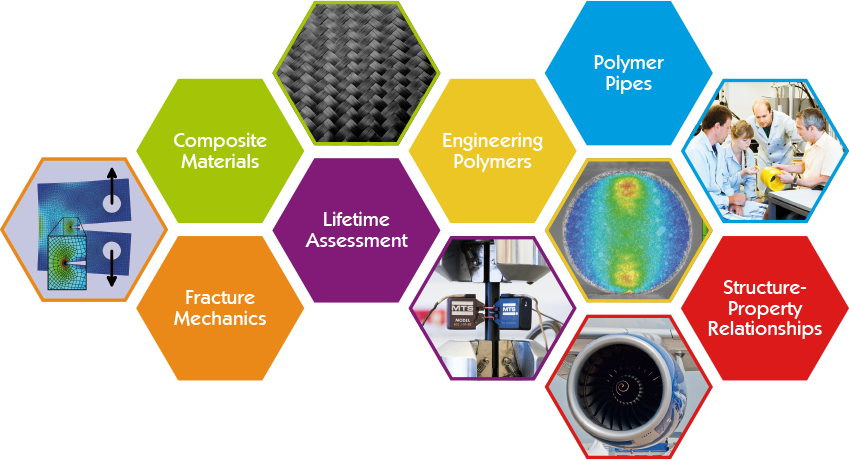 Competences and technical applications
To have reliable future-proof applications requires having expert knowledge today. In supporting your research and development, the Polymers and Composites for Structural Applications division not only keeps in step with technology but also takes care of providing future-oriented and sustainable solutions. 
Our experienced research team consists of internationally renowned experts contributing extensive expertise as well as young scientists going for innovation; what makes the team stand out is close cooperation with universities and decades of working together with relevant industrial partners. Our research focus is on areas where durability, integrity and safety of structural components made from polymeric materials are essential.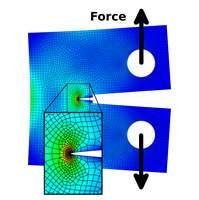 Starting at fundamental aspects of polymer chemistry, the range of topics researched by us also includes the impacts of polymer processing, the material properties on the test specimen, and, finally, components tailored to meet the specific requirements of the given application. We have more than ten years of experience in researching materials for a wide variety of applications, ranging from fiber-reinforced polymers for the automotive and aviation sectors to engineering thermoplastics used in mechanical applications such as rolling elements and gear-wheels and to polymeric materials in geomembrane and pipe applications requiring minimum service lives of a hundred years. We pay particular attention to the characterization and lifetime assessment of components made of recycled materials and natural fiber composites. Further focus areas include component properties resulting from new manufacturing technologies, such as additive manufacturing, or the development of alternative and reliable adhesive bonding and repair methods for structural components made of composite materials. The related comprehensive materials testing, which far exceeds standard procedures, is made possible by the cutting edge equipment we have in our test laboratories. We will also be happy to develop tailored polymer testing methods to master the specific challenges that your desired application poses for this exciting materials.
Scientific approach
To ensure the successful use of polymeric materials, it is vital to know the structure-properties relationships arising from different perspectives, both under quasi static load and under fatigue and impact load, during all stages – from processing to the finished component. With fiber-reinforced composites, for instance, the structural integrity and durability of adhesively bonded repairs, with a special focus on the chemical functionalization of CFRP surfaces, is researched just as intensively as the deformation and failure behavior of CFRP sandwich structures with closed-cell polymer hard foam cores. Other focus areas include the largely untapped topic of the fatigue behavior of natural fiber-reinforced polymers, as well as the influence of process parameters on the material behavior of fiber-reinforced and non-reinforced high-performance polymers during generative manufacturing. Apart from our expertise with standard morphological and structural materials testing procedures, we have extensive experience with using SAXS/WAXS for characterizing engineering thermoplastics. Examining the influence of disinfectants such as chlorine dioxide or sodium hydroxide on the aging behavior of polymers is a specific competence; a specially developed exposure device warranting stable media conditions is available for this purpose.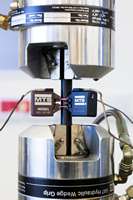 The extent of fracture mechanics testing of polymers being performed at the PCCL is unique. If the required materials properties are known and relevant constraints, such as residual stresses, are taken into account, it is possible to assess the lifetimes of structural components from an application perspective. The fracture mechanics concepts developed are used, for instance, to predict lifetimes of pipes, with special attention being paid to the effects of recycled materials. The cracked round bar (CRB) test, which was developed at the PCCL and has meanwhile become an international standard, is used in addition to conventional testing methods. 
The recognition which the research division enjoys within the science community is reflected by numerous peer-reviewed publications and presentations held at international conferences such as, for instance, the International Conference on Composites (ICCM), the European Conference on Composite Materials (ECCM), the Plastic Pipes Conference, the ESIS TC4 International Conference on Fracture of Polymers, Composites and Adhesives and the Mechanics of Time-Dependent Materials Conference. Such wide recognition is also apparent from the ongoing networking with globally active research facilities and participation in expert committees and bodies such as the Society for the Advancement of Materials and Process Engineering (SAMPE), the International Organization for Standardization (ISO) or the Society of Plastic Engineers (SPE).
Research Groups